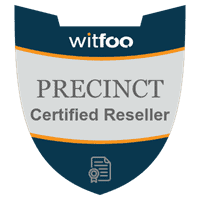 EXPTEQ
witfoo PRECIDENT's Certified Reseller
Features
WitFoo Precinct
It is a Diagnostic Security Operations (SECOPS) Platform built to enable organizations to mature SECOPS by addressing the following pain points:


Leveraging crowdsourced cybersecurity expertise and time-tested methodologies from physical law enforcement, Precinct combines and consolidates massive amounts of disparate data into meaningful, investigable incidents.

Natural language processing delivers full comprehension of every log and message type. Precinct eliminates the work of having to build or maintain parsing logic. All parser maintenance is included in the WitFoo license agreement

Horizontal scaling allows for unlimited data processing and retention. There is no additional license charge for adding processing or data nodes to a Precinct deployment.

Object-oriented SOAR delivers higher fidelity confidence to perform automatic or manual remediation actions. All API integrations, case books, and SOAR jobs are maintained by the WitFoo license agreement.

Unparalleled business metrics allow for more transformational conversations between the security practice and the broader business. Out-of-the-box reports include Compliance Readiness, Tool Effectiveness, Staffing Requirements, and Operational Efficiency.
PRECINCT OVERVIEW
Building on time-tested approaches and principles from law enforcement, WitFoo combines the best features and capabilities of SIEM, Incident Response Platforms, and Security Orchestration & Automation to deliver actionable data for everyone from the junior investigator to the CEO. WitFoo Precinct learns the logic and processes of investigators to augment and automate their work. It's next-level gear for the good guys.
View Solution Overview
ENABLING MANAGERS
WitFoo Precinct delivers the metrics that security managers require to supervise effective teams and to have meaningful conversations with the broader business to reduce costs and risk. Business metrics are autonomously generated from the Big Data SIEM stack.guys.
View Full Demo
EMPOWERED INVESTIGATORS
WitFoo Precinct leverages the best practices of Big Data SIEM, Cybersecurity and Law Enforcement to deliver sustainable success to our heroes: Incident Responders.
View Full demo